Is There a God?
How do you know there is a God?  If there is a god, how many; or is there just one? People throughout the centuries always want to worship something or someone. People need to bow down to something much greater than themselves. People are very afraid of what they cannot comprehend: a god who seems so vast, terrible, powerful and seemingly unknowable and unreachable.
Maybe we are simply infatuated with ourselves and we want everyone to worship us. "I'm just too hot to be true.  I can't take my eyes off of me," is a universal theme we've seen forever--and why we simple folks keep a bucket close by.


Man Was Created to Worship God
Mankind was created to worship and we do.  We have our idols everywhere; on every bookshelf in our hearts, and on every stage we tune our eyes to. We worship either ourselves, our job, our power, our wife/husband and/or a god…just to be on the safe side. 

God put within each of us a yearning to know and worship Him.  In the millions God answers those hearts. We are greatly blessed, and so is God, as He is rightly worshiped and we give God all of the glory He deserves.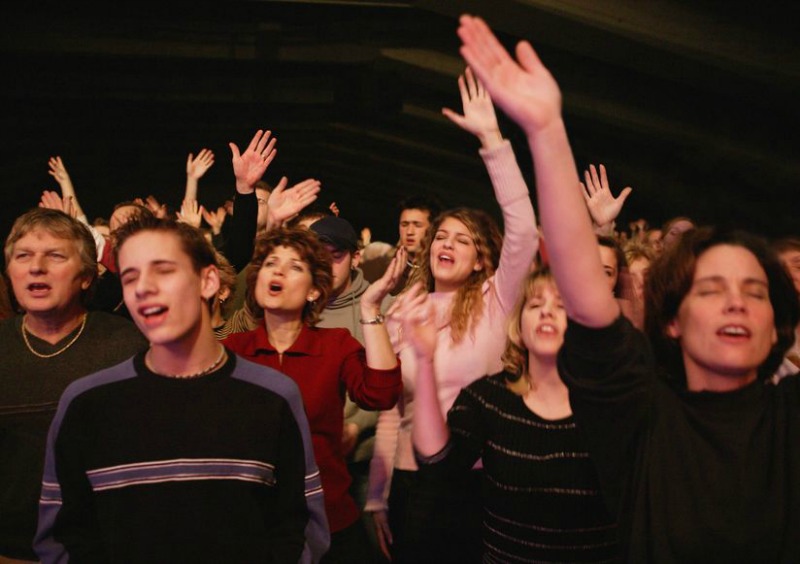 But because many millions more decide to not want to follow after God because they love darkness more than light, God lets them have their way.  Love is not forced.  God will not force worship.  A reading of Romans 1 and 2 goes into more detail why.  For a follower and believer in Jesus, worshiping God cannot be contained.  


A Fool Says in His Heart, "There Is No God?"
For those who think believing in God is for the simple-minded, the ones who lack sufficient intellectual sophistication and therefore need a crutch, would it not be wise to allow some intellectual flexibility?  Consider Psalms 53:1. "The fool has said in his heart, there is no God."  

Consider Romans 1:22. "Although they claimed to be wise, they became fools…" 
Consider 1 Corinthians 1:25. "Because the foolishness of God is wiser than men, and the weakness of God is stronger than men."  
Consider what these verses are saying to be either true or false.  If what they say is false, continue on with life. If what these verses are saying are true, please do not let such a superior, sophisticated state of an, I don't need or want God, mind and heart become an invisible prison, and please…do not have a stroke. 
If there is a God, which one?  There are many different religions. What is God really like?  Are not all religions like the spokes on a wheel that lead to the hub, the same God?   The answer is no.
The Heavens Declare God Is There
Psalm 19:1 tells us, "The heavens declare the glory of God; the skies proclaim the work of his hands."

Discovering from the heart the One true God and trusting in Him begins to lay a sure foundation for our lives. One would hope that each person, to begin with, would want to come to the right answer if they inquire about God.  But because we cannot see God as we see people, for God is a Spirit as stated in John 4:24, there is a step of faith we must take.  It is a step of faith that begins to unlock a door where we discover that there is a personal very big God.  
The book of Hebrews 11:6 tells us, "And without faith it is impossible to please God, because anyone who comes to him must believe that he exists and that he rewards those who earnestly seek him." (NIV)   

To understand faith a little better: when you sit down on a chair, by faith, you believe it will not collapse.  When you eat food, by faith, you believe you will not get sick.  When you set the alarm clock just before you go to bed, by faith, you believe you will wake up the next morning and turn it off as quickly as possible.  When you get married, by faith, you believe you will live a lifetime of love together.  The one beautiful aspect of discovering God by faith is that He is a true and faithful God.  God is a faithful Savior and friend who keeps His Word to you, because He loves you.
Jesus Himself says in John 14:6, "I am the way, the truth and the life.  No one comes to the Father except through me." 
John 10:1,2 Jesus says, "Very truly I tell you Pharisees, anyone who does not enter the sheep pen by the gate, but climbs in by some other way, is a thief and a robber.  The one who enters by the gate is the shepherd of the sheep." 
In verse 9 Jesus say, "I am the gate; whoever enters through me will be saved." 
In verse 11 Jesus tells them, "I am the good shepherd.  The good shepherd lays down his life for the sheep." 
In those statements alone Jesus is excluding all other ways, all other religions.  Jesus is the way, the only way. 
In Acts 4:12 the Apostle Peter, speaking of Jesus tells us, "Salvation is found in no one else, for there is no other name under heaven given to mankind by which we must be saved."
It is upon Jesus, upon His finished, redemptive, blood-atoning sacrifice on the Cross and His triumph over death in the Resurrection, that we build, through personal faith and trust in Him, a Sure Foundation for our hearts, our lives, our eternal destiny.  All other foundations will fail, crash and burn, separated forever from a beautiful, loving, forgiving God. 


The One True God
What separates Jesus from all other religions? 

There are those religions that attempt to attain higher enlightenment through inner peace and harmony with each other and nature.  That is a great way to live and there is nothing wrong there, except that we still need to address the eternal consequences of our sin nature before a Holy Righteous God, which these religions do not do with any satisfaction.  



At their core, other religions teach a great fear of an endless list of "thou shalt nots" and "thou better be doing" threatening "or you're fried big time", especially if you go over a certain line.  So where is that line? That line is always invisible. The fear is always felt. 
You never know how many good works you need to do to win God's favor and hopefully spend eternity with Him.  Your gods never tell you.  Yet you know you can't be perfect.  How many bad things do you do and conclude, it's over for me.  Let's party 'til it's over because I'm toast forever! 
It is fair to question and compare philosophies, the sciences and yes, religion.  Do not be afraid to ask, "Is there a God?  Am I believing in the right God, the right way?  If there is a God, why so much suffering?  How could He let that happen to them?  Is He that weak, or doesn't He really care that much?"  


There are many good questions to ask about God, whether He is, or isn't.  Many questions are hard.  
There are answers to many of those questions.  We do not know the answer to every question.  But we can discover more treasures from a loving merciful God than we thought ever existed.  We can discover more and deeper things of a loving God than we thought we could ever know.  God is a very big God!  He has heard these questions countless times.
However, if we ask God mockingly, if we put on a great religious front but our hearts are full of deceit, God sees our hearts.  Galatians 6:7 tells us that God is not mocked. Whether someone chooses to believe in God or not, there is a day coming for everyone.  We will stand before God and give an account for our lives. What will we say to Him then?  On what basis will He be pleased with us?  Not believing in God will not change that coming day.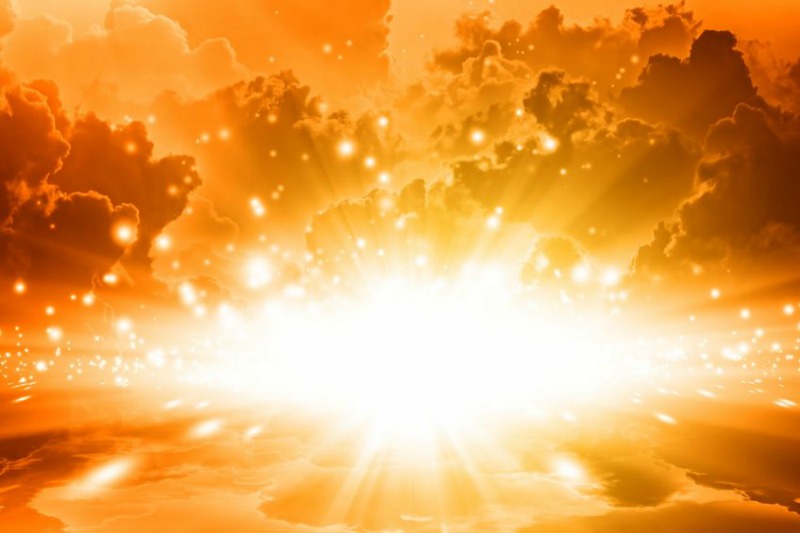 "And then the lawless one will be revealed, whom the Lord Jesus will consume with the breath of His mouth and destroy with the brightness of His coming." 2 Thessalonians 2:8
If our hearts and minds are searching and tender to hear and want genuine truth from the One eternal God, God will hear us and guide us to Him.  He will fill our hearts with His eternal truth and presence.  It is this God who truly and deeply satisfies.  It is this God who fills that hole in our hearts that great wealth and power and all our things could never fill.
In James 1:5 James writes, "If any of you lacks wisdom, you should ask God, who gives generously to all without finding fault, and it will be given to you."
In Acts 17:11,12 there were a group of people called Bereans.  They wanted to get it right. "Now the Berean Jews were of more noble character than those in Thessalonica, for they received the message with great eagerness and examined the Scriptures every day to see if what Paul said was true.  As a result, many of them believed, as did also a number of prominent Greek women and many Greek men."
What the Berean Jews found to be true then is still true today.  The truth of the words of God are unchanging.  They are eternal.  God's words and the power of His words do not weaken and become corrupt with time.  God's word is not fashionable.  "Don't believe the Bible.  That's so old fashion and so out of date", doesn't hold water with God.  God is not trendy.  "Times are changing so God must get with the times" will not work. 
But the Spirit of God does search throughout the ends of the earth to find those who hunger and thirst after Him.  He pursues after each of us with His everlasting love.  He loves each person and He loves you.  So it is that the purpose of His Love for You is to give each person searching for God's truth a reason and a hope to rethink and prayerfully redirect their heart and mind toward Jesus.  He is not so far away.